Looking to get into cyclocross or just want to update your current cross bike? Landry's Bicycles and our passionate staff are here to help, no matter your experience level.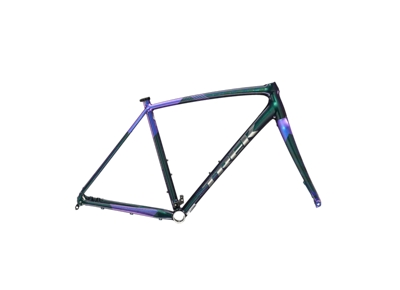 Crockett has made a name for itself in world's biggest cyclocross races, including the World Cup. But it's also right at home on your local circuit or gravel roads. Wherever it's ridden, Crockett Disc frameset likes to go fast and have a good time. Its advanced alloy frame looks and handles like carbon for a solid start on the cyclocross bike of your dreams. - Carbon looks and handling, alloy price point: Invisible Weld Technology and shaped tubes for sleek looks, light weight, and incredible handling - The full carbon Trek Cross fork soaks up the chatter from rough roads, gravel, and cyclocross courses - Internal cable routing with Control Freak Cable Management keeps things smooth, quiet, and clean
$3,449.25 - $4,599.00
$4,599.00
Up to 25% Off
The road goes on forever and the party never ends. When the Stigmata was resurrected in 2015, we fused a number of MTB standards and design features to create our spin on the modern CX bike. Something must have clicked, because, within months of launch, it raced to victory at the legendary Three Peaks and has continued to contend at elite cyclocross races around the world. Nowadays, the internally routed disc brakes, generous tire clearance, and thru-axle approach that made the Stigmata famous have become more of a norm, so we took a fresh look at which standards the riders of tomorrow wanted access to today. Threaded bottom brackets remain a perennial favorite across our entire line thanks to their proven robust, cost-effective, and compatible design. "If it ain't broke…" ...and it never is. Fender mounts add a bit of CYA and highlight the Stigmata's ever-widening scope of purpose. We added to that with three bottle cage mounts so that the frame can still hold at least one normal bottle even when running a front triangle bag. Deeper adventures and bigger tires, perhaps? The frame now clears up to a 45mm 700c or a 2.1" 650B tire. Marry the latter to our Force/X01 AXS mashup kit, and you've got yourself the kind of drop-bar singletrack and gravel rallycat we can all get onboard with. And, when it comes to good old-fashioned off-road etiquette, the Stigmata's had some coaching at the Highball school of stiffness, handling, and offroad feel. The carbon layup borrows knowledge gained from not just the Highball, but also Danny MacAskill's trials bike, to produce a ride so law-abiding you'd think HR had sent it on a compliance training course. Geometry plays a big part here, too, so we've made tweaks to improve handling for smaller riders and reduce toe overlap. The reworking of the 52/54cm frames means the Stigmata now comfortably suits riders from 5'3" and up. Meanwhile, different fork offsets (50mm for the 52-54cm sizes, and 45mm for the 56-61cm sizes) help ensure your little piggies don't go to market on the front wheel. Topped off with tidy details like 12mm front axle, flat mount brakes, and build-specific Reserve wheel packages, the Stigmata is designed to let you decide whatever the heck you want this category to be.
Designed to help you reach that podium, the Brava Advanced Pro is an agile race bike created to provide exceptional handling and maximize acceleration.